Restore Your Own Antique Stove ...
It's Worth the Effort !
In 1997 I bought an old home, circa 1906, in Denver, Colorado. Not much had been done to improve the house over the years, and in the kitchen was a wonderful gas range from the 1940s. It seemed in good shape, but over time the oven temperature began to decrease until finally I was unable to cook anything in it. The burners worked fine, but the knobs became increasingly difficult to turn. I procrastinated for a year or two meanwhile shopping around for a new stove. Most of my friends advised me to pitch the old stove and buy a new one–you know, one of those marvelous self-cleaning jobs with all the bells and whistles.
Well, I just couldn't see condemning the old Roper to the landfill and thought it would be wonderful to restore it and keep it going. After all, it was already older than I and seemed to be built like a tank! I cruised the internet and found The Old Appliance Club web site TOAC Shop online.
Jack Santoro, founder of TOAC, was a jewel to put up with me. In the end, I had the thermostat and safety valves rebuilt, and replaced one thermocouple for the oven. The worst part was cleaning the 60 years of grease that had accumulated in the stove. It took a lot of time and patience, but I got the whole thing put back together with the help of a friend or two. It was amazing to learn of the simplicity and precision of its workings. I am thrilled and feel rather proud that I restored it myself. Everyone who comes in my house admires the Roper. If you're in doubt about restoring your old stove, take a chance. It's worth the effort!
Laura Vance
Denver, CO
Thanks Laura, for your words of encouragement
to old appliance lovers everywhere. - J.S.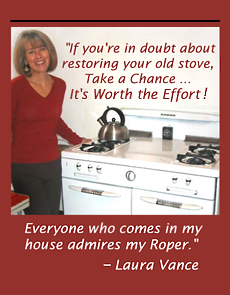 We Specialize in Helping You
with Your Antique Stove Restoration
Free Help with orders of any
Free Help when you join TOAC
plus...
Free Information, Resources
Free Ad, Estimate of Value,
Free magazine subscription to
Discounts on Parts and Services
Free Help with orders of
Services or Parts - see
listings in the TOAC Shop
Be sure to bookmark this page.
For help
Email or Call us ... see below ...