The Brand NEW, Do-It-Yourself 'How to' GUIDE
Analyzing the Grayson/Robertshaw
TS-7 Safety Valve System
The First Manual of its Kind!
features the Famous
Thermo-Magnetic TS-7 Safety Valve
Also Known As the "Pickle Valve".
This High Quality Safety Device was used in thousands of
antique stoves and heating units throughout the 1940s-50s.
With our latest manual you or your technician can
correctly analyze and troubleshoot
the TS-7 safety valve system in your stove.
Eliminates Guesswork and Flawed Evaluations.
Do-It-Yourself Analyze Quickly, Safely and Easily.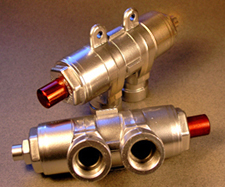 Analyzing the Grayson/Robertshaw
TS-7 Safety Valve System
INCLUDES:
Troubleshooting
Frequently Asked Questions and Answers
How To Set the TS-7 Valve
Correct Lighting Procedure
with and without the Side Pilot Tap
Igniting the Pilot.
Cutaway Inside Diagram of the TS-7 Valve
Full Parts Nomenclature Explained
B
onus Information:
Location of Pilot Adjustments with pictures and explanation.
Causes of Safety Valve Failure with actual interior photos never before published.
Pilot adjustment for TS-7 Valve on Thermostat with photo.
Service Procedure for Safety Pilot Adjustment.
Various Pilot Valve Styles photos.
Second Bonus:
<![if !supportLists]> <![endif]>4 Things Never to Try with an old Grayson TS-7 Safety Valve
Extremely Important:
Why It Is NEVER a good Idea to purchase a 'Used' TS-7 Safety Valve.
Various TS-7 Safety Valve Styles pictured.
Removing the TS-7 Safety Valve from Your Stove.
Where to get antique Grayson Robertshaw Safety Valves Serviced Accurately and Quickly.
Thumbnail History of the Inventor, John Grayson
Applicable to both TS-7 Valves:
With or Without Side Tap Pilot.
Make Sure Your Holiday Meals are a Success!
Instant Delivery! Order below ...
The New TS-7 Manual is Easy to Understand.
Based on over 49 years of expertise in the
antique stove field.
It will walk you through everything you need to know.
Furthermore it will point out exactly how to troubleshoot and analyze problems for the TS-7 safety valve swiftly and with complete accuracy.
We are heading into a big Holiday cooking season .
The time to prepare is now!
Save precious time.
Can be used by a private party or technician that is not familiar with the
TS-7 antique stove safety system.
>Invest in Yourself. The knowledge you gain lasts for a lifetime.
All procedures are charted out with the utmost of safety so you can proceed with full confidence.
Order your copy today.
Keep it on hand ... Use it over and over again.
You're going to need it!
Please be sure the Safety Valve pictured is the type you have in your stove before ordering and that TS-7 is stamped on the valve.
*This is not a repair manual.

This manual is for analyzing the actual problems with the TS7 Valve.

If after using this guide you still need repairs this must be done by a qualified rebuilding service. Parts for rebuilding TS7 safety valves cannot be sold to the public. If you need quality rebuilding services at the lowest prices with longest warranty contact: J.E.S. at toac@sbcglobal.net. *All sales final on electronic and printed materials.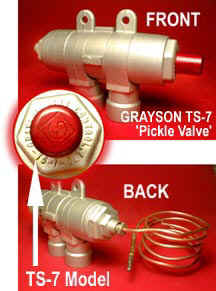 Analyzing the Grayson/Robertshaw

TS-7 Safety Valve System

Available Right Now as an Instant Download!

Click to Order

...

Just one payment of $

19.95