Type 1 - up to 1,000 degrees, 2" thick.
Type 2 - up to 2,200 degrees, 1" thick.
Type 3 - up to 2,200 degrees , 1/2" thick
Insulation Rolls are 2' wide.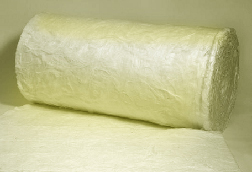 Measure Length to order.
Blanket types come in a 2 foot wide roll. How to Measure ... See below.
REMOVING UNPLEASANT 'OLD STOVE ODOR'
After a stove has been around for a number of years it can start to have a bad smell.
There are a few reasons for this.
Vaporized Grease – As grease is vaporized eventually it will seep into the insulation of a stove. What you smell when you turn on your old range is actually rancid vaporized animal fat being heated over and over and over again within the stoves interior. You won't believe how much fresher your kitchen will smell by replacing the fat saturated old insulation with
Insect and rodent nests – Although you may never have given it a thought, a New or Old Stove is an ideal home for insects and rodents. They find there way into the insulation blanket and actually build a cozy little home for themselves and their relatives. Unfortunately, they are not decent tenants .They eat the greasy insulation and use the stove as a 'restroom' and home for their next generation. This is a very common complaint. Although it sounds nauseating, this can be totally eliminated by removing the old insulation and replacing it with
super HI-Heat range insulation from J.E.S. Enterprises.
Take off the stove panels. Measure length to be replaced. Rolls are 2' wide by any length.
Once replaced, your stove will be like new all over again!
Our insulation is made of the finest grade stove insulating materials. It utilizes a special textured fiberglass weave employing millions of 'air sacs' that super-charge or magnify the insulating properties inside the walls of your range.
J.E.S. Enterprises superior super HI-Heat Range Insulation Can Be Used to
Replace Insulation in ALL stoves or other cooking devices which previously used
Fiberglass, Asbestos, Rockwool or other insulations.
E-mail or call J.E.S. Enterprises for the best and most economical way to re-insulate your stove.
Your stove will operate as efficiently and odor-free as it was designed to
when it rolled off the factory floor.
Call (805) 643-3532 or Email TOAC@sbcglobal.net for Pricing and Assistance.
Testimonials from Satisfied Customers:
Mice Infested Stove - Ruined the Insulation and
Stored Gallons of Dog Kibble inside their Range!
One afternoon my husband had a spill on the stove top and was afraid that it may have leaked through to the burners into where all the insulation would be. Usually that's not an issue as this type oven has the spill proof rings around the burners. But just to make sure, he checked. And thank goodness he did. He was absolutely astonished; mice had taken up residency. There was, and I'm not exaggerating, a 13 gallon trash can that he filled up with "kibbles" as in dog food! In addition there were also three dead mice and mice droppings. Needless to say he tried to clean it out as best as possible without destroying the insulation, but to no avail, the electric wires were just too exposed, consequently that would have burned the wires and created an even bigger problem. So for a month I didn't cook.
I wanted to take a moment and thank the men and women that work at TOAC. Everyone I spoke with was very nice and professional. They helped me with my stove insulation needs.
Sincerely, J. Farmer - Arizona
"This is great stuff. The old insulation was not in bad shape but it definitely needed to be changed. The quality of the (new) blanket is amazing and the fact that it doesn't splinter into your skin during installation is a big plus. I would rate this as a five star product out of four stars. I was impressed - a rare experience that I truly welcome."
P. Rastocny - Florida
YOU WON'T BELIEVE WHAT A DIFFERENCE NEW STOVE INSULATION WILL MAKE.
Measure: Open your stove, measure insulation needing replacement.
Or, measure length/width of stove panels.
To Order - call or email exact number of linear or square feet.