Hello "Stove Pilots" and WELCOME to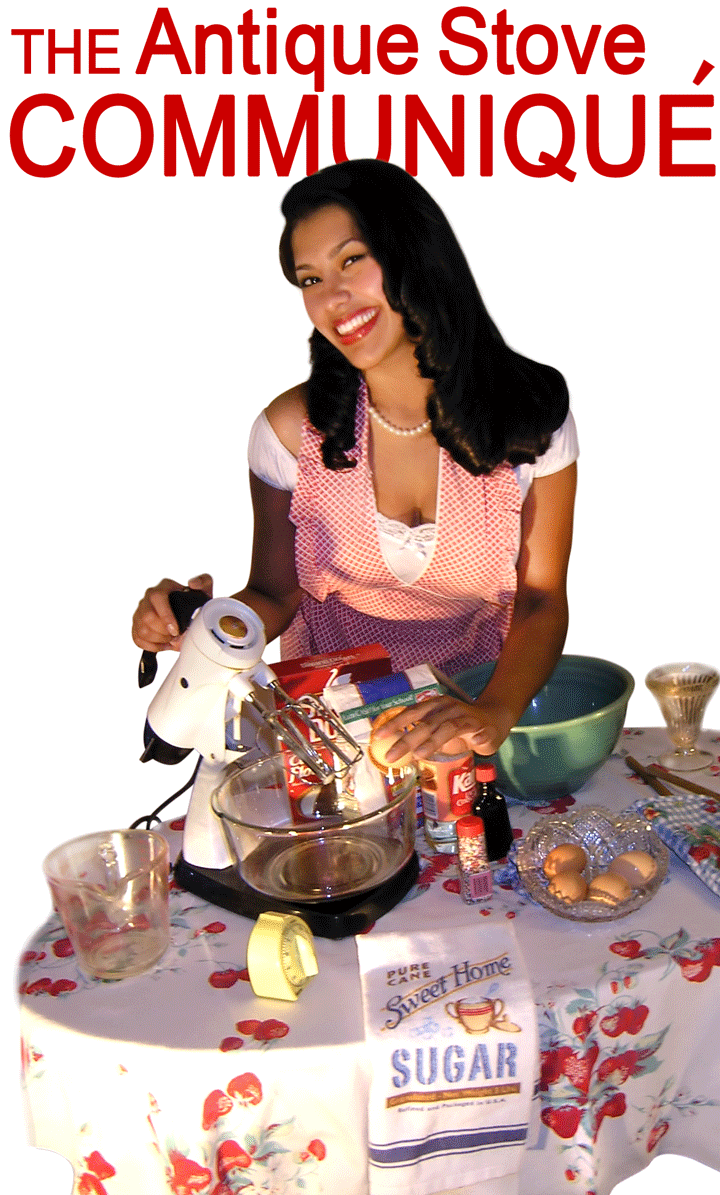 Current Issues ... click
Insulation, Safety Valves, Thermostats
About Us:
For the past 45 years we have owned and operated our antique stove company J.E.S. Enterprises, Inc. specializing in parts, service, information, restoration and fabrication services.
In 1994 we also established The Old Appliance Club for owners of antique stoves and appliances and began publishing our vintage appliance magazine, The Old Road Home. This publication and The Old Appliance Club connected people who owned, loved and used vintage appliances in their homes throughout America and the world.
Over the decades we have been delighted to work with tens of thousands of old stove owners throughout the U.S.A and abroad. Through it all our main focus is to help as many old stove users get their ranges repaired and restored to whatever degree they are seeking.
Why You Should Learn about Your Antique Stove
It's amazing what can be done with the right parts and a little know-how. If you are one of the fortunate people that own an antique stove from the 30s, 40s, 50s or 60s it really pays to learn as much as you can about your range and how to keep it in tip-top shape. You can do a great deal of money-saving servicing yourself and never be hostage to service providers that literally make you beg for help. Knowing that restoration is an acquired skill and although it isn't rocket science, what to do and what not to do to stay out of trouble is important. That said, owning a reliable old range will be the cheapest and best stove you will ever cook on.
Tracking down information on your stove can be frustrating and time consuming. We know this to be true from the thousands of calls we get each year about antique stoves.
The Antique Stove Communiqué will hopefully be very helpful to you now or in the future. We will add topics as we go along that should explain what you need to know about a variety of subjects. Most of this information is not printed in any publication but is based on 45 years in the antique stove field.
Before the "Old Timers" are gone... learn what you can Now.
There are new stove tech's out there that are eager to learn about antique stoves and they are welcome aboard. There aren't many of us "old timers" left around anymore so before we leave for the ultimate wild blue yonder excursion we want to pass forward information that can help.
Now let's get into some important subjects for all antique stoves - read more ...
Insulation, Safety Valves, Thermostats
Happy Cooking Stove Pilots!
Jack n' Erika Santoro
J.E.S. Enterprises, Inc.
Contact: toac@sbcglobal.net or 805-643-3532
Sponsor of The Old Appliance Club
at: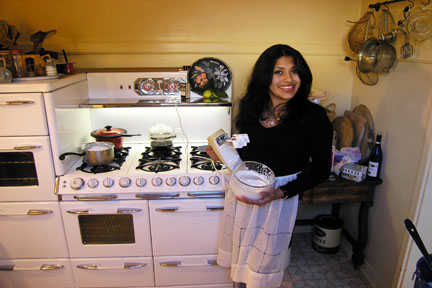 Alana E'Dahlia at the O'Keefe & Merritt Aristocrat range.
P.S. Send us a picture of yourself in front of your antique stove and
we will try and publish it in the upcoming issues!